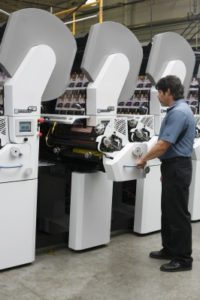 Eastern Trading House SA is an engineering company aiming at the implementation of technologically complicated projects in various industrial and services sectors in the territories of Central Asia and Kazakhstan. Its main product to be offered in the market is the comprehensive monitoring of the investment projects from technical and technological calculations to physical supply of the equipment, consumables and training of the personnel.
Several areas can be highlighted in company's specialization:
• Graphic Arts sector – Information support of polygraph productions, supply of the full range of the equipment from the world leaders, supply of the consumable materials, maintenance and post-maintenance support of the equipment and supply of the spare parts.
• Medical equipment – Information support for medical facilities, support and maintenance of the wide range of medical equipment. Maintenance and post-maintenance support of the equipment and supply of the spare parts.
• Laboratory and analytical equipment – supply and maintenance of all types of the laboratory and analytical equipment for any operation area, from medical laboratories to metallurgical productions.
• Industrial equipment – Project development and implementation for various processing areas.
We achieved great success in our work due to individual approach to any client and high professionalism of our employees. Taking into consideration any request of our customers and the attempt to satisfy them, we are continuously working upon the expansion of the line of the offered equipment, expansion of the range the consumables, inform our customers on the newest technological developments and new models of the equipment coming from the brand-named producers of the world whom we have been cooperating for many years.
When offering the equipment, we also attach great attention to their further maintenance. Our highly qualified engineering ensures qualitative maintenance and post maintenance services of any piece of the installed equipment.
Company's head-office is located in Switzerland, regional representative offices of "Eastern Trading House SA" are located in Uzbekistan  Tashkent city, and Kazakhstan  in Almaty.
Many customers from Central Asia and Kazakhstan, from the small printing centers and laboratories to the largest industrial productions found a permanent and reliable partner.
We will be happy if you find our company as your constant and reliable partner, supplier of goods and services meeting your high requirements.
Eastern Trading House is your guide in the world of technologies.